The Wall of Butterflies is dedicated to the children who have paid the ultimate price due to child abuse and neglect.  We want everyone to remember their beautiful innocent faces and to spread awareness to ALL that it is our responsibility to ensure children are free of violent acts in order for them to become productive members of society.  
"The next time you see a fluttering butterfly...remember OUR fallen children are still dancing in the wind."
Priscilla Perez, Founder of Havenly Blue                      
Airi Kinoshita, Age 7                Krim Children, Ages 6 and 2
Flying since Nov. 2005             Flying since Oct. 25, 2012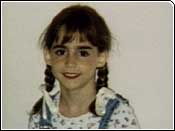 Madelyn R. Clifton, Age 8           Dennis Craig Jurgens, Age 3
Flying since Nov.3, 1998              Flying since April 11, 1965                                      
       Brianna "Baby Brianna" Mariah Lopez, Age 5 months                                                                        
       SHE is the reason for The Fallen Butterflies Movement                                                   
                    February 14, 2002 - July 19, 2002
Adre'anna Jackson, Age 10            Cassandra Williamson, Age 6
Flying since Dec. 2, 2005               Flying since July 26, 2002
                                    Junko Furuta, Age 17
                                 Flying since Jan. 4, 1989
                           She suffered 44 days before flying
  Raijon Daniels, Age 8                       Zina Linnik, Age 12 
  Flying since Oct. 26, 2006                Flying since July 4, 2007
His murderer walks free today         
The Wall of Butterflies unfortunately grows daily, shown above are just a few public cases to prove child abuse is a prevalent issue in our Nation and Globally.
Please take the time to "Google" each child to truly understand WE must build unity and community to protect abused children from becoming Fallen Butterflies.  Through education, awareness, and community... society can improve many National issues by making children our number one priority.
One day the cycle of violence against children will end!  
 If there is a Fallen Butterfly (Fallen Child) you would like to remember on The Wall of Butterflies please email us via the Contact page of this website.